Durango has managed several rooftop unit replacement projects for St. Vital Centre, with the most recent one in 2020 (pictured below). Replacing rooftop units is no small feat – it requires significant coordination.
We began this project by investigating all tenant spaces under or adjacent to the rooftop units. Next, we installed heavy structural reinforcing under the roof deck, which meant we needed to open entire ceilings in the stores below. We completed work at night in order to keep stores operational throughout the course of the project.
The photos below illustrate a few of the steps, but here are some additional points on what's involved in a project like this:
Running new electrical feeders, controls and external disconnects
Changing duct distribution
Cleaning variable air volume systems in tenant spaces
Building a fast cover on the roof to allow work through bad weather and to protect tenants below
Mapping joist layout on the roof to build a roadway to roll units on (cranes can't reach to land them on the new curbs)
Setting up a gantry to lift and lower rooftop units once beside the new curb
Reinstating all stores to original finishes once the rooftop unit replacement work is complete
Throughout the project, our team was responsible for significant safety protocols. After all, it's an operating shopping centre first and a construction site second!
"We have used Durango Construction for projects ranging from minor building maintenance to million-dollar rooftop unit replacements (including roof and structural upgrades). Working in a shopping centre environment can be demanding considering the extensive operational hours and potential tenant/patron impact of these major projects. Without exception, Darryl and his team have completed the projects with minimal disruption to our tenants, and with the highest level of professionalism."
– Kyle Waterman, General Manager, St. Vital Centre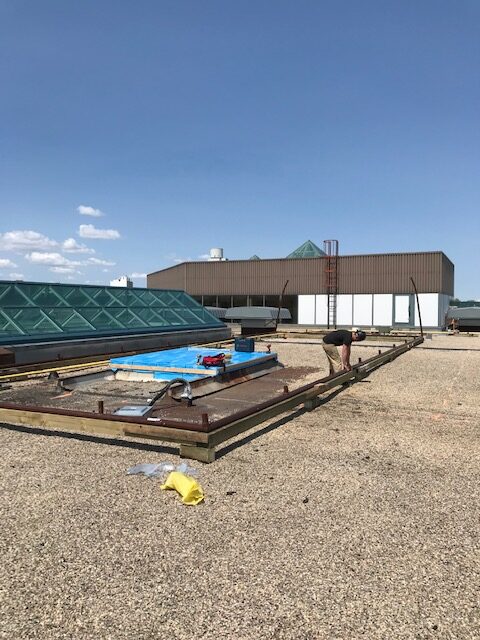 Before